McGregor Racing
This site is dedicated to the motorcyle racing activities of the McGregor family from Dromara in Northern Ireland. We hope to include some interesting information and photos.
We will also bring news of Aaron McGregor, Simon Reid, Colin McGregor and The Mearas as the 2008 motocross season progresses
Background
The McGregor family has been involved in Motorcycle racing from the 1960's until the current day. Ian and his good friend Raymond McCullough began as youngsters racing around the local Dromara roads. Both were to become very successful road racers during the 60's and 70's.
On Ian's retirement in the mid 70's his nephew, Brian Reid,began his road racing career. During the 80's and 90's Brian became one of Ireland's best riders winning at home and abroad.
During the 80's the second generation of McGregors took to the track. Brian and Alan began scrambling (Moto-x for younger readers). Later both of Ian's sons began short circuit racing achieving some success.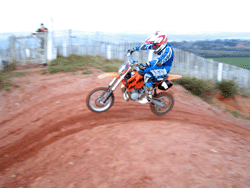 With the new millenium the third generation took to the motocross track. Colin, Brian's oldest Son, became the Ulster cadet champion in 2003. Unfortunately a seriuous knee injury led to Colin taking a break from competitive motocross. Mid way through 2007 Colin made a successful comeback.
Closely following Colin was Simon Reid, Brian's son. Simon has showed great speed and determination and has already quite a few championships to his name. A injury similar to Colin's cut short his 2006 season. 2007 saw another injury cause Simon to miss most of the season.
Aaron, Alan's son, is the latest McGregor to take to the track. Starting in September 2006 Aaron finished 7th place in his first championship. Aaron followed up on his early success with some good results during 2007. The highlight of the year was winning the Holeshot Motocross Barley Stubble championship.